Every Martial artist at one point or another was inspired by a movie they saw. Here are a few movies (in no particular order) that inspired many generation of Martial Artists.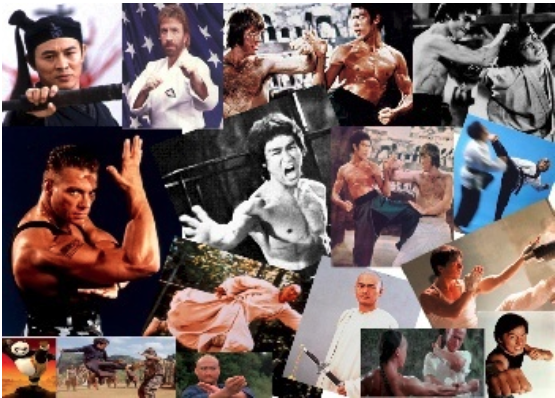 Bruce Lee's Fists of Fury – Chen Zhen (Bruce Lee) has left his homeland of China and relocated to stay with family in Thailand. Chen, who swore to his mother that he would avoid violence in his new life and even wears a necklace to remind himself of this oath, is tested when he confronts trouble at his job. When he finds out the factory he works at is a cover for a drug ring, and his family members are murdered by members of the gang, he can avoid fighting no more and decides to confront his corrupt boss.
Jackie Chan's Drunken Master – Unable to see eye to eye with his father, completely broke and with nowhere else to turn, young Wong Fei-Hung (Jackie Chan) grudgingly accepts the tutelage of Su Hua Chi (Siu Tien Yuen), a notoriously intoxicated martial arts master. Su Hua Chi teaches Wong the techniques of Drunken Boxing, an unusually fluid fighting style. Wong is then forced to put his new skills to the test when his father is targeted by deadly assassin Thunderleg (Jang Lee Hwang), who has never lost a fight.
Jet Li's Once upon a time in China – A man (Jet Li) must protect his martial-arts school while sorting out his feelings for a young woman (Biao Yuen) who is his aunt by adoption.
Jean Claude Van Damme's Blood Sport – U.S. soldier Frank Dux (Jean-Claude Van Damme) has come to Hong Kong to be accepted into the Kumite, a highly secret and extremely violent martial-arts competition. While trying to gain access into the underground world of clandestine fighters, he also has to avoid military officers who consider him to be AWOL. After enduring a difficult training and beginning a romance with journalist Janice Kent (Leah Ayres), Frank is given the opportunity to fight. But can he survive?
Keanu Reeve's The Matrix – Neo (Keanu Reeves) believes that Morpheus (Laurence Fishburne), an elusive figure considered to be the most dangerous man alive, can answer his question — What is the Matrix? Neo is contacted by Trinity (Carrie-Anne Moss), a beautiful stranger who leads him into an underworld where he meets Morpheus. They fight a brutal battle for their lives against a cadre of viciously intelligent secret agents. It is a truth that could cost Neo something more precious than his life.
Tony Jaa's Ong Bak – In Thailand, the impoverished village of Ban Nong Pradu has its most precious Buddha statue stolen from the temple. Luckily the small town also has a very skilled fighter in the form of Ting (Tony Jaa), who sets out on a quest to recover the cherished figure. His journey leads him to Bangkok, where he must wrangle the statue from Don (Wannakit Sirioput), a volatile drug dealer. Meanwhile, the village is suffering a severe drought and needs the Buddha to restore vitality.
Crouching Tiger Hidden Dragon – In 19th century Qing Dynasty China, a warrior (Chow Yun-Fat) gives his sword, Green Destiny, to his lover (Michelle Yeoh) to deliver to safe keeping, but it is stolen, and the chase is on to find it. The search leads to the House of Yu where the story takes on a whole different level.
Ip man – The life story of Yip Man, the first person to teach the Chinese martial art of Wing Chun.
Best of the Best – Five American martial artists prepare to battle the South Korean champions in the 1988 Seoul Summer Olympics.
Power Rangers – Five ordinary teens must become something extraordinary when they learn that their small town of Angel Grove – and the world – is on the verge of being obliterated by an alien threat. Chosen by destiny, our heroes quickly discover they are the only ones who can save the planet. But to do so, they will have to overcome their real-life issues and before it's too late, band together as the Power Rangers.

Did your movie make the cut? Tell us in the comment section below what inspired you to start Martial Arts.